Αν αγαπάς το καλό φαγητό, τότε το Κονάκι εν Αγκιστρίω θα γίνει το νέο σου στέκι! Στο μενού θα βρεις ζουμερά και εκλεκτά κρεατικά στα κάρβουνα, κοκορέτσι και γουρουνοπούλα να γυρίζουν στη σούβλα, μαγειρευτά που μυρίζουν μαμά και ορεκτικά που σε ξετρελάνουν!
Tip: Δοκιμάστε τις εξαιρετικές σάλτσες του πάνω στα κρεατικά σας. Σάλτσα ροκφόρ, a la creme και σάλτσα μουστάρδας είναι μερικές από τις επιλογές!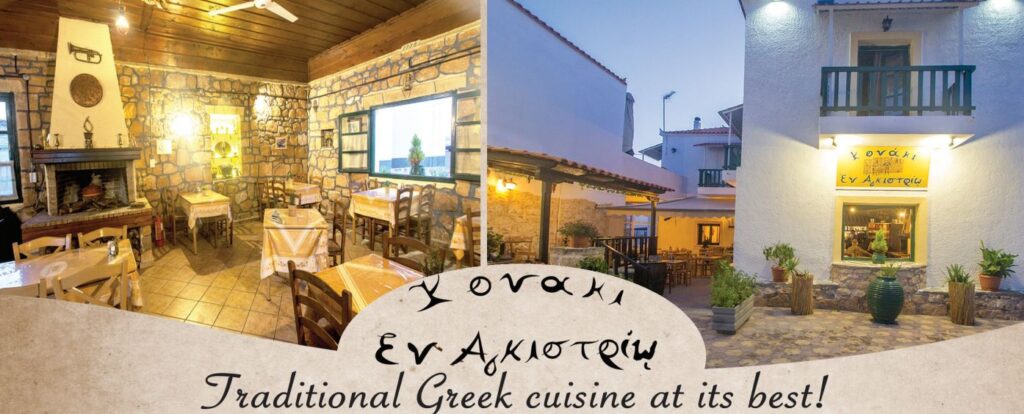 If you love good food, Konaki en Agistrio will become your new place to be! In the menu among others you will find juicy grilled meats, kokoretsi and piglet on the spit, cooked dishes that "smell like mom" and appetizers that will drive you crazy! Tip: Try its excellent sauces on your meats. Roquefort sauce, a la creme and mustard sauce are some of the options!
Megalochori, Agistri. T: 2297091841 & 6931143411
|FB| Κονάκι εν Αγκιστρίω – Ψητοπωλείο
|IN| konaki_en_agkistrio