Και να μην θες, το Bocampo Beach Bar στην Αίγινα σε ξεσηκώνει και σου ανεβάζει τους καλοκαιρινούς ρυθμούς στα ύψη!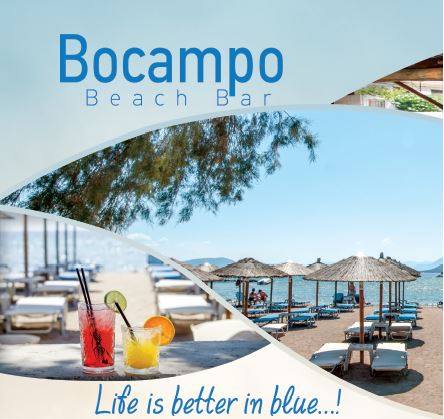 Ιθύνων νους, ο ιδιοκτήτης του Δημήτρης, ο οποίος σαν σωστός και βέρος Αιγινίτης, επιθυμεί και τα καταφέρνει να προσφέρει τα καλύτερα τόσο στους συντοπίτες του όσο και στον κόσμο που διάλεξε την Αίγινα για να περάσει τις καλοκαιρινές του διακοπές! Λίγο η χρυσή παραλία του Μαραθώνα, λίγο το εξωτικό του στυλ που παραπέμπει πιο πολύ σε διακοπές στο Bali, κάτι οι περιζήτητες δωρεάν ξαπλώστρες ανεβάζουν την διασκέδαση στα ύψη για ολόκληρο το νησί. Απολαύσαμε το μπάνιο μας υπό lounge ήχων, ήπιαμε τον καφέ μας ενώ σταθήκαμε τυχεροί και πετύχαμε ένα από τα καλύτερα party που διοργάνωσε πίνοντας cocktail χορεύοντας μέχρι τελικής πτώσης!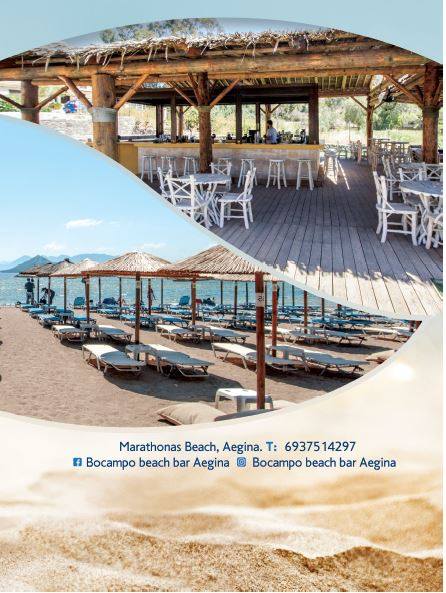 —
Even if you don't want to, Bocampo Beach Bar in Aegina will get you high! The owner of the place, Dimitris, as a true Aeginite, does his best to offer you all the best for your summer vacation! The golden beach of Marathon, the exotic style that travels us to tropical sceneries and at last the free sunbeds, will surely make you love it. We enjoyed our coffee, swam in the blue sea, while we were lucky enough to enjoy one of the best parties of the summer, drinking cocktails and dancing to the dawn!
Marathonas Beach, Aegina.
Τ: 6937514297
FB: Bocampo beach bar Aegina
Instagram: Bocampo beach bar Aegina