Είναι βέβαιο πως για να κλείσεις τραπέζι στο THERIS, έχεις πολλούς καλούς λόγους… Πρώτος και καλύτερος η απόλαυση του ουρανίσκου σας! Εκεί μαγειρεύουν ελληνική παραδοσιακή κουζίνα, με αυθεντικά μαγειρευτά αλλά και της ώρας, με αποτέλεσμα να μην ξέρετε τι να πρωτοδιαλέξετε από τον κατάλογο.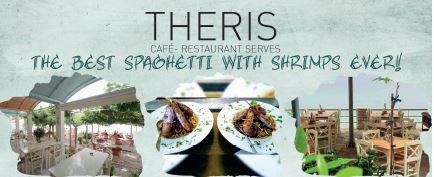 Εμείς αγαπήσαμε την γαριδομακαρονάδα, την οποία έχουμε ακόμη στις πρώτες γραμμές της λίστας των αγαπημένων μας! Σας προτείνουμε επίσης, μύδια σαγανάκι με κρόκο Κοζάνης σβησμένα με ούζο, ταραμοσαλάτα, αλλά και μια διαφορετική τονοσαλάτα με μια πολύ ενδιαφέρουσα γευστικά σως κοκτέιλ. Επιλέξτε το ακόμη και για τον πρωινό καφέ σας, μιας και η αίσθηση πως βρίσκεσαι μέσα στη θάλασσα καθώς, ορίζοντας και θάλασσα αναμειγνύονται στο ύψος των ματιών, είναι μοναδική!
—
There are plenty of reasons for you to book a table at Theris Café – Reastaurant. Frist of all, the tasty and authentic Greek traditional cuisine. We love the spaghetti with shrimps which we cannot forget till now! You should also try, Saganaki mussels, fish roe salad and tuna salad. You may also visit Theris for your breakfast and coffee, with a great view of the sea!
Μεγαλοχώρι, Αγκίστρι.
Τ: 2297091400
Mob: 6931143411
Fb: Hotel Theris